You still have till the end of the month to get your entries in at Turtle Soup for the Birthday Bash Challenges.
Here are a few more to whet your appetite:
Day 16 - Joans challenge
My daughter-in-law gave me this cute photo strip from a party they had gone to that had a photo booth set up (how fun!). She wanted to know if I could use it for Vincent's scrapbook album ... why yes I can. Especially since I have the Cricut Photo Booth Props cartridge. My challenge for you is to create a layout, card, tag, ATC or altered project and use circles on it. You have till the end of the month to play along. Be sure to post your project in the gallery and link it back here for us to see.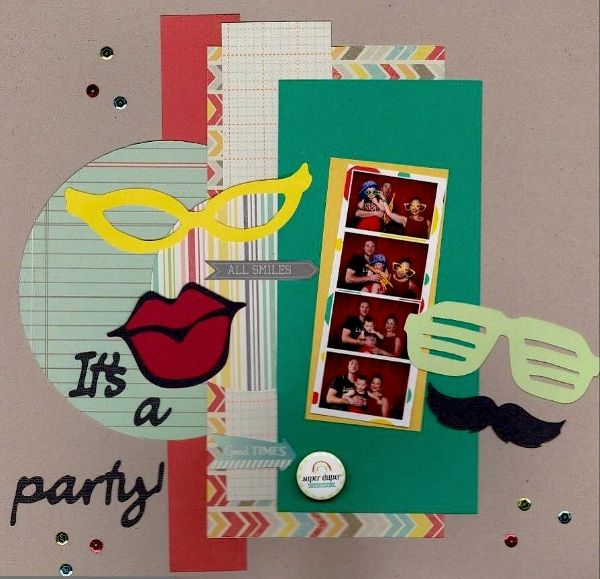 Day 17 - Bev
Here is today's Birthday Bash Sunday Sketch...
Create a Birthday Card or any celebration card to share with us.
Here is my sample using the sketch
Day 18 - Chris
Hi Today I am sharing my take on today's sketch
and here is my take on this sketch
Day 19 - Linda
We all like to receive birthday gifts and what better way to say thank you than a handmade card. My challenge to you is to use a tag and ribbon on your creation.
Day 20 - Tania
My challenge to you is to create a card using some Birthday themed Embellies or papers from your stash.....
Day 21 - Phillis
What do you do with the program or ticket from a Concert or awards ceremony that you have attended? Keep it or throw it out once you get home. I tend to save it all. I used the schedule from my dd volleyball tournament for part of my background on my LO.
My challenge to use is to use part of the program, entry ticket, etc on your LO, card etc.
And finally Day 22 - Stacey
This is your last challenge of the birthday bash. My favorite way of organizing things around my scrapbook area is by using my favorite man Roy G. Biv. In case you don't know what that stands for. Red, orange, yellow, green, blue, indigo, and violet.
Here is my example. This is from the gender reveal a few weeks. We just found out what the sex of grandbaby #2 will be!!! Big sister is super excited. And if you notice daddy in the background getting ready. He was really excited about blowing up a target to see to reveal the gender.
BTW: Here's the actual reveal! We did this at our house to ensure that it wouldn't scare/hurt anyone since I only have 1 neighbor and plenty of open space.
So my challenge to you is make a project using all of Roy G Biv and a little bling (we all love bling)
Go forth and scrap my friends
Deb xx